Windows
About Windows
Windows serve multiple purposes in our homes. They provide light and the allow ventilation. From inside the house, they enable us to see the world outside, which creates a sense of openness and eliminates the sense of isolation. Looking in or looking out, well designed and constructed windows can be much to enhance the beauty of a home.
Windows are sold in variety of styles and configurations: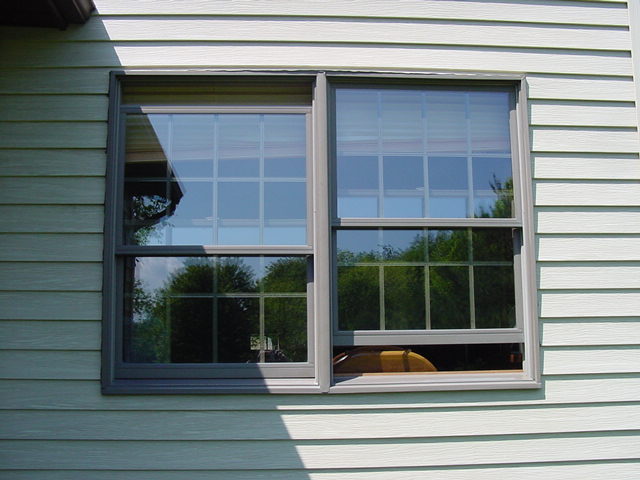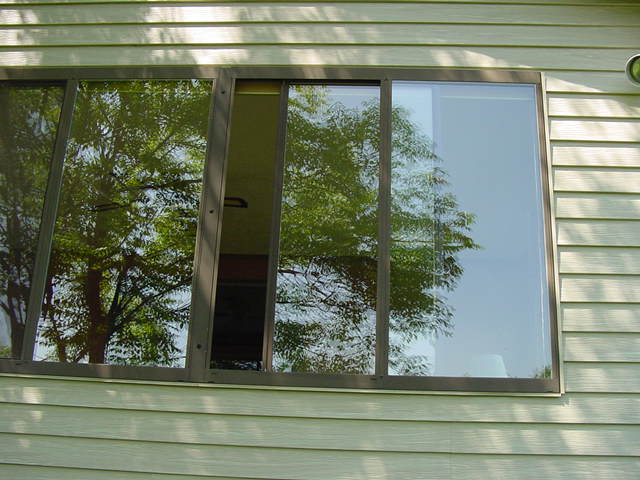 Double hung Horizontal Slider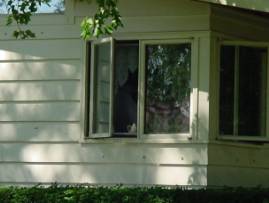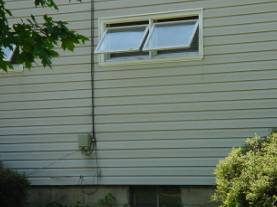 Casement Awning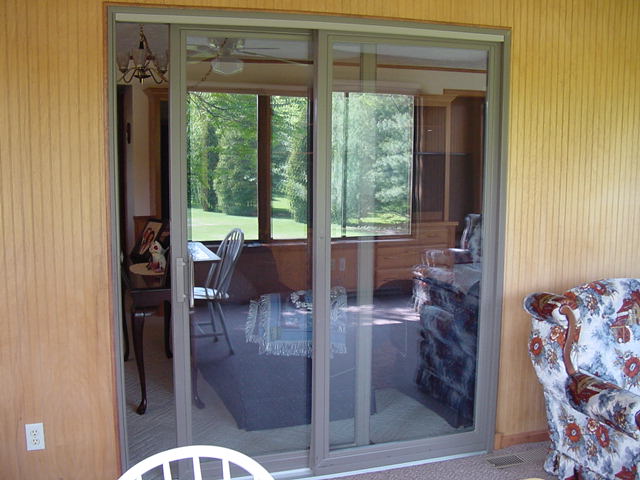 Sliding door
[Glossary of window terms]
The invisible quality of windows is their role in a home's energy consumption. Because windows have a much lower resistance to heat flow than the solid around them, windows account for a disproportional amount of heat loss and heat gain. In the typical American residence, windows account a substantial amount of all exterior wall space, about 15%. In upscale, custom-built homes, this percentage usually runs higher.
As the weakest link in the home's climate controlled envelope, minimizing energy loss calls for the selection of the most energy efficient windows. The incremental cost of purchasing these high performance windows (or "fenestration" as the industry calls it) will more than pay for itself over its useful life.
Performance
To aid consumers in comparison shopping, most windows sold today are tested, certified, and labeled to reflect their energy efficiency. Since 1989, the National Fenestration Rating Council has been the certifying agency for windows. Window manufacturers contract with independent laboratories to conduct the actual testing and with inspectors to monitor the testing. The NFRC then certifies the test results.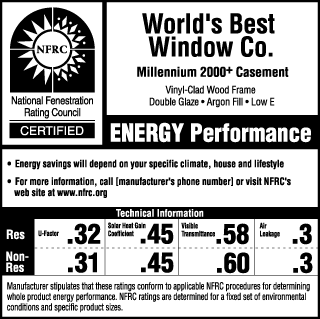 As shown above, the NFRC label states the manufacturer and model name of the window, and describes its construction. In this case, the framing material is vinyl-clad wood (never needs painting), and has two sheets of glass with argon gas in between with a low E coating on one glazing. The significance of each construction detail is discussed below.
Frame Materials
The materials most often used for window framing are wood, vinyl, and aluminum. Wood is a much better insulator than aluminum and is also highly regarded for being paintable and for its general appearance. It is also the most expensive of the three materials.
Throughout most of the 90's, the volume of wood windows sold was steady year to year, while the market share of vinyl windows increased and aluminum windows decreased. Today, vinyl windows have a 50% market share, while wood has accounts for 39% of sales. Aluminum framed windows account for the balance of market.
As the table1 below illustrates, the insulated vinyl frame has the lowest U value. In cold climates, it is the most sought after material.
| | |
| --- | --- |
| Material | U Value |
| Aluminum | 1.9 - 2.2 |
| Alum w/ Thermal Break | 1.0 |
| Alum Clad Wood or Vinyl | 0.4 Ė 0.6 |
| Wood and Vinyl | 0.3 Ė 0.5 |
| Insulated Vinyl | 0.2 Ė 0.3 |
In the mildest climates, metal frames may to sufficient. Metal frames with thermal breaks will eliminate sweating and frosting problems that occur during freezing cold weather.
Glazing Count
Up until the energy crises of the 1970's, most of the existing homes in the U.S. had windows with a single layer (or "glaze") glass. Typically, this single layer was divided into multiple panes within each sash. Between 1980 and 2000 market share for double and triple glazed windows expanded from 50% to over 90%. Between the two layers glass in each sash is a ľ" to Ĺ" gas-filled space which provides a resistance to heat flow.
In the coldest climates, triple glazed windows are sometimes used. Instead of conducting through just one layer of glass, heat must transfer through three glazings and the two gas-filled spaces between them.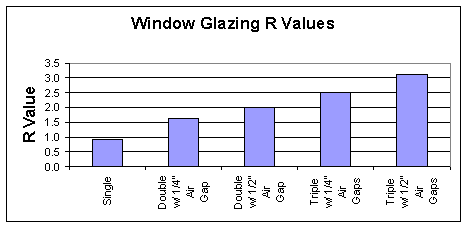 To increase resistance even more, some windows have clear plastic sheets suspended between the multiple glazings. Essentially, these plastic sheets act as additional glazings, further slowing the flow of heat. By splitting the airspace between glazings, the space available for convection currents is cut in half, thus minimizing temperature stratification inside the window.
Cavity Fill
Another means of lowering the U value is to replace the air between multiple glazings with an inert, clear, non-toxic, low conductivity gas, such as argon, krypton, or xenon. Low conductivity means higher resistance to heat flow. As illustrated below2, these inert gases have a much lower conductivity than does air.
| | |
| --- | --- |
| Gas | Conductivity |
| Air | .01400 |
| Argon | .00915 |
| Krypton | .00491 |
| Xenon | .00294 |
Although they offer superior thermal performance, Krypton and Xenon gases are disproportionately more expensive to use than Argon. Consequently, Argon is the most commonly used fill gas in the marketplace today.
To keep the low conductance gas from leaking out and to keep moist air from leaking in, a window frame must be hermetically sealed. Broken seals are readily identified when double and triple glazed windows show condensation or fogging between their layers.
The ability of an inert gas to lower a window's U factor is also related to the spacing between the glazings. Argon optimizes at 0.50" spacing, while Krypton works best with a 0.30" gap.
The remainder of the information on the NFRC label relates to the performance results measured by the independent lab and the certified by the NRFC. These measures are the U-factor, Solar Heat Gain Coefficient, Visible Light Transmittance, and Air Leakage.
Coatings
Over the last 15 years, the use of spectrally selective "low e" coatings have accounted for much of the improvement in window energy performance. These coatings allow the passage of visible light while screening ultraviolet waves that fade fabrics and infrared waves that transmit radiant heat. Applied to a single side of a glazing, these coatings reflect these wavelengths in both directions. In the summertime, outdoor heat is reflected off of the metallic oxide coating. In the winter, indoor heat is reflected back into the interior space.
Low-e coatings are available that allow high, low, and moderate solar heat gain. What coating works best is a function of geography. High gain coatings are used in heating-dominant parts of the country where it is desirable to capture the sun's radiant heat during the winter months. In cooling-dominant climates, like the southern states, low gain coatings translate into lower air conditioning bills.
For double glazed windows in heating dominated climates, the low E coating is applied to the exterior face of the interior-side glazing to maximize solar heat gain while reflecting indoor heat back into the interior. In cooling dominated climates, the coating is applied to the interior face of the exterior-side glazing to minimize the solar heat gain.
U-Factor
The U factor is a measure of a window's resistance to heat flow. It is the inverse of the R value, which is the familiar measure used for insulation. The smaller the U value of a window, the higher its value as an insulator.
U values shown on NFRC stickers are "whole window" values, i.e. they take into account the heat flow through the sashes and frame as well as through the glass area. Surprisingly, all three frame materials listed below have a higher U value than the glass within them.
The table3 below lists the U-factors for the same size window with single, double, and triple glazings.
| | | |
| --- | --- | --- |
| Glazing Count | Frame Matíl | U Factor |
| Single | Aluminum | 1.30 |
| Single | Wood/Vinyl | 0.90 |
| Double | Wood/Vinyl | 0.49 |
| Triple | Wood/Vinyl | 0.34 |
As illustrated below, U-factor of a window is also affected by the use of low E coatings.
| | | | |
| --- | --- | --- | --- |
| Glazing Count | Frame Matíl | Coating | U Factor |
| Single | Wood/Vinyl | None | 0.90 |
| Double | Wood/Vinyl | None | 0.49 |
| Double | Wood/Vinyl | Low E | 0.33-0.36 |
| Triple | Wood/Vinyl | None | 0.34 |
| Triple | Wood/Vinyl | Low E | 0.24-0.27 |
Energy savings from decreased U factors are more dramatic in heating dominated climates of the Northern US. In colder climates, savings of up to 30% can be realized by switching from single glazed to double glazed with Low E.
Solar Heat Gain Coefficient
Solar Heat Gain Coefficient (SHGC) is a measure of the how well a window blocks the sun's radiant heat. Windows with reflective tints or coatings are more effective at reflecting radiant heat than is clear glass. As noted below4, Low E coatings do the best job of screening the solar radiation.
| | | | |
| --- | --- | --- | --- |
| Glazing Count | Frame Matíl | Coating | SHGC |
| Single | Wood/Vinyl | None | 0.63 |
| Double | Wood/Vinyl | None | 0.56 |
| Double | Wood/Vinyl | Tint | 0.37-0.46 |
| Double | Wood/Vinyl | Low E | 0.30-0.52 |
| Triple | Wood/Vinyl | None | 0.50 |
| Triple | Wood/Vinyl | Low E | 0.25-0.45 |
Energy savings from decreased U factors are more dramatic in heating dominated regions. In hotter climates savings of up to 35% can be realized by switching from single glazed to double glazed with Low E.
Visible Light Transmittance
Visible Light Transmittance (VT) measures the amount of light that can penetrate through a window. Tints and special coatings applied to window glazing block out part of the light that would otherwise pass through.
In the table below5, the double glazed, low e coated windows have better VT than tinted glass with either a single or a double glaze.
| | | | |
| --- | --- | --- | --- |
| Glazing Count | Frame Matíl | Coating | VT |
| Single | Wood/Vinyl | None | 0.64 |
| Single | Wood/Vinyl | Bronze/Gray Tint | 0.48 |
| Double | Wood/Vinyl | None | 0.58 |
| Double | Wood/Vinyl | Bronze/Gray Tint | 0.44 |
| Double | Wood/Vinyl | Low E | 0.50-0.53 |
| Triple | Wood/Vinyl | Low E | 0.40-0.46 |
Air Leakage
Air Leakage or Infiltration is a laboratory measure of volume of air that passes through a window as one side of the window is pressurized under standard conditions. In the real world, pressure differentials occur whenever the wind blows outdoors or an exhaust or intake fan is running inside the house. As with an open window, a leaky window will allow the passage of conditioned air out and unconditioned air in. The energy loss due to infiltration can much larger than the energy loss due to conduction through the window.
In double hung or sliding windows, leakage of air through windows takes place between the sashes and where sashes slide within the frame. Without close tolerances between the sash to frame surfaces the window will leak. If the sashes slide without resistance or can be wiggled around in the frame, then substantial leakage will occur. Manufacturers install weatherstripping along these contact surfaces to abate the air leakage. Tight window latches ensure a tight seal where the sashes meet the top and bottom of the frame.
Awning and casement windows are easier to seal than double hung windows since they do not have sliding edges. With proper weatherstripping, each contacting surface can be all but hermetically sealed.
With indoor-outdoor temperature differentials much greater in the winter months than in the summer months, the impact of high air leakage windows is greatest in heating dominated climates.
Next: Energy Savings Opportunities - No Cost
Copyright © 2002 HEM Technologies, LLC. All rights reserved.