In the News
Nissan Leaf Electric Vehicle to Sell for Less Than $33,000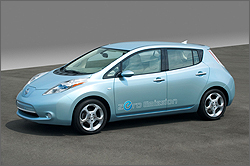 The electric Nissan Leaf will begin appearing in select U.S. markets by the end of this year, and will be available nationwide in 2011.an Leaf will begin appearing in select U.S. markets by the end of this year, and will be available nationwide in 2011. Enlarge this image.
(DOE) Nissan announced on March 30 that its new electric vehicle (EV), the Leaf, will have a manufacturer's suggested retail price of $32,780 for the standard model. The vehicle, designed to travel 100 miles on an average battery charge, will be available in some markets this December, with nationwide sales beginning in 2011. Nissan said it would begin accepting online reservations for the Leaf on April 20 for a fully refundable fee of $99. The automaker noted that each Leaf would be eligible for a $7,500 federal tax credit, as well as any potential state tax rebates for such alternative transportation. The nonprofit Plug In America called the pricing for the Leaf a "game changer" that will help to build a robust EV market. See the Plug In America press release.
As part of the buying process, Nissan will offer to install personal charging docks that operate on a 220-volt supply. The company said the average cost of the docks would be $2,200, but they too would be eligible for rebates. Using current national electricity averages, Nissan estimated that Leaf will cost less than $3 to recharge. The Leaf will also be available for leasing, with monthly payments starting at $349. In January, DOE closed a $1.4 billion loan to Nissan to retool and expand the company's factory in Smyrna, Tennessee, for the production of the Leaf and the battery packs used in the vehicle, with the goal of eventually producing 150,000 vehicles per year. See the Nissan press release, the Leaf Web site, and the DOE press release on the loan.
The Nissan Leaf also will be the sole vehicle participating in The EV Project, under which the Electric Transportation Engineering Corporation, or eTec, will provide free home charging stations and installations for up to 4,700 Nissan Leaf owners in 10 cities in five states: Phoenix and Tucson in Arizona; San Diego, California; the Oregon cities of Corvallis, Eugene, and Portland; the Tennessee cities of Nashville, Knoxville, and Chattanooga; and Seattle, Washington. The EV Project will also deploy an additional 6,510 EV charging stations in those cities. Under the American Recovery and Reinvestment Act, the project was awarded a DOE grant of $99.8 million in August 2009. It was officially launched in October 2009 and will continue for three years, with the aim of gathering the lessons learned from these initial deployments and applying them to future efforts to deploy EVs and charging infrastructure. See The EV Project Web site.
Copyright © 2010 HEM Technologies, LLC. All rights reserved.